Spector vs. Cosmo
Today, the good folks over at Cosmopolitan magazine unveiled their list of "The Hottest Players in the NHL 2013" and were immediately met with outrage on Twitter due to the exclusion of dreamy New York Rangers goaltender Henrik Lundqvist. Now, this is nothing against Brian Boyle, a handsome fella in his own right, but in my wife's words, Lundqvist is pretty much a perfect...
Me on KMOX - 9/17/12
Last night, I went on KMOX radio in St. Louis for a conversation about the NHL lockout. We also talked about the column that I wrote proposing that the NHL and NHLPA, with their lack of mutual trust, put Brendan Shanahan in charge of the negotiations, and much more. ]]>
Project Qualls: New York and Beyond
Closing in on 1500 votes cast in Project Qualls now, and it's clear that there's still very much a New York flavor, as in every sport except for hockey, a New York athlete is at the top or is tied for the top of the charts. Of course, the hockey player drawing the most ire from his home fans is very much a New York athlete – it's just that Canucks fans don't like Mark Messier. He's gotten the...
1 tag
Project Qualls: Day 4
Project Qualls has received 1000 nominations in four days, which is just incredible, so thank you very much! For those who have not yet participated, there are two ways to vote… The question is: Who is your least favorite player from your favorite team? You can e-mail your answer to projectqualls@gmail.com or tweet it to @ProjectQualls. As you'll note below, some people have voted for coaches...
1 tag
Project Qualls: Day 2
What's Project Qualls? Read this and find out. After two days, there have been 625 names submitted to Project Qualls, and it's tied at the top between Donald Brashear, with 12 votes as Rangers fans' least favorite Ranger, and Mark Messier with 12 votes from Vancouver, where Canucks fans have long memories. Today's voting breakdown focuses on the players who have received votes with multiple teams....
Project Qualls: Day 1
If you're wondering what Project Qualls is, read the introduction and cast your vote, then come back here and check out the early returns. I'll wait. Okay, after one day of voting in Project Qualls, these are the players who have received two votes from the fans of their respective teams. Don't see your least favorite player from your favorite team here? E-mail...
Project Qualls
Maybe you want the story, maybe you don't. If you don't, here's Project Qualls in a nutshell. I'm asking a simple question: Who is your least favorite player on your favorite team, current or all-time? E-mail your replies, regardless of sport, to projectqualls@gmail.com — I have no idea what will become of this, but I think it might wind up being very interesting. You...
Barack Obama is Batman.
It's true. He's really Batman. RT @AP: AZ sheriff says probe concludes Obama's birth record 'definitely fraudulent:' http://apne.ws/NJceU9Share on FacebookShare on TwitterShare on PinterestShare on Google+Share on LinkedinShare by emailJesse SpectorTue, Jul 17 2012 22:09:38ReplyRetweet0 likes · 0 comments @jessespector @AP...
Call Me Maybe, Maybe, Maybe...
Oh, Carly Rae Jepsen, you have created a catchy monster, haven't you? Here's the original: Then Katy Perry got involved… And the folks at Staples Center in Los Angeles… Sticking on the sports theme, the Miami Dolphins cheerleaders got in on the act… Sticking on the orange theme, Donald Trump brought his hair to the party with the Miss USA contestants… And...
Los Angeles Sports, April 2012
Kings: Not the Philadelphia Flyers. Lakers: Not the Miami Heat. Clippers: Not the Los Angeles Lakers. Kobe Bryant: Not LeBron James. Blake Griffin: Not Dwight Howard. Matt Kemp: Not Barry Bonds.
"It's kind of scary to think he can get that much better than where he is now."
– New York Rangers defenseman Dan Girardi on fellow NHL All-Star John Tavares, who has been steadily rising toward stardom since he was the No. 1 draft pick, and leaves teammates and rivals alike wondering where the upper limit is for his talent.
"You're watching the game, so you tell me. You're watching it, obviously you..."
– Capitals forward Jason Chimera, responding to a question about how Washington played in a 3-2 loss to the New York Rangers on Sunday
Tim Thomas, Facebook, Politics and the Blurry Line...
Can an NHL goalie be a private citizen? I think so. What's going on with Tim Thomas now, though, is blurring the line. I tweeted a lot about it earlier today, and thought it would be good to put all of those thoughts together in one place — here.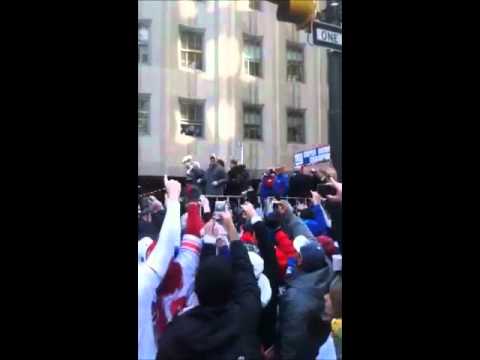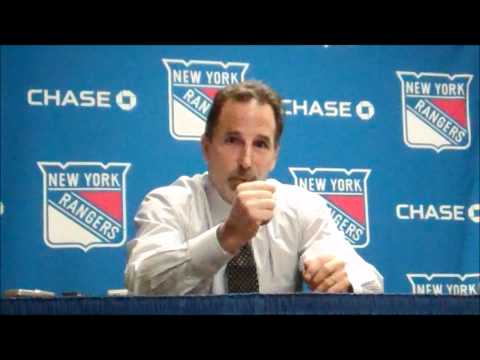 "Life will show us everything. After the break, we'll see. Life will show us what..."
– New York Rangers forward Artem Anisimov, whose team leads the Eastern Conference at the All-Star break